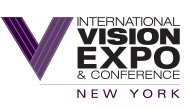 Representatives from Optical Dynamics and Vision Dynamics Laboratory are pleased to attend this year's Vision Expo East Friday March 27th through Sunday March 29th at the Jacob Javits Center in NYC. Although we will not exhibit at the event, team members will be available for onsite appointments should you wish to meet and discuss our in-office lens technology, photochromics, color enhancing sun line, glass, or fixed tint products.
Attendees include:
John Dippold, President ext. 285
Michael Yager, VP Sales ext. 291
Eric Lindquist, National Sales Manager Lab Services c. 801-205-6133
Julianne West, Marketing ext. 253
For appointments, please call 800-797-2743
Exhibit hours for the event are as follows:
Friday March 27th 9:30am – 6:00pm
Saturday March 28th 9:30am – 6:00pm
Sunday March 29th 9:30am – 5:00pm
We look forward to meeting with you at this year's event!