Presenting an AR option to your patients is more important than ever with AR coating applied to nearly 30% of all lenses sold. In a survey by the Vision Council of America, 60% of all eyewear consumers have a desire to purchase an AR lens but many consumers are not even offered the choice. According to 20/20 Magazine, "improvements have reached a point where AR is not just a "nice to have" but many consider AR a necessity. Sure wearers can live without it, buy why should they?"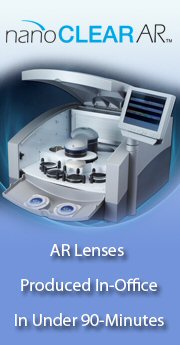 The patient benefits of AR coating are undeniable. By minimizing surface reflections AR coating improves vision when dealing with overhead lighting, computer screens and window glare. Vision during night driving is also improved reducing the glare of oncoming headlights. AR lenses are more cosmetically appealing for improved patient appearance. Not offering an AR option is a missed opportunity to improve patient satisfaction and even more importantly, a missed opportunity to grow your practice profitability.
Past barriers to providing an AR option such as quality, delivery time and cost, are eliminated with the in-office nanoCLEAR AR unit. Designed for use with the Q-2100 Digital Lens System, the nanoCLEAR AR unit processes lenses that are anti-reflective with a hydrophobic/oleophobic top coat in under 90-minutes. Using nano particle technology, our breakthrough design is a small table top system that easily installs in most offices. It is clean quite and automated for easy operator integration. Priced about the same as an edger, the nanoCLEAR AR unit is an affordable and profitable addition to any practice.
| | |
| --- | --- |
| For Your Patients: | For Your Practice: |
| Clearer, sharper, vision | More AR sales for more revenue |
| Durable, long lasting performance | Reduced lab bills for more profit |
| Easy-to-clean surfaces | Quicker delivery for more repeat business |
| Fast same-day service if necessary | Improved quality for high patient satisfaction |