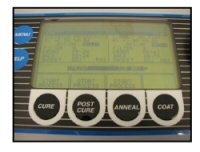 Some prescriptions will use different initialization cycles for each eye. The Q-2100 screen will show the word SPLIT when this occurs.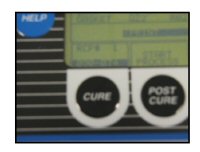 Split jobs require a few extra steps to complete them correctly. Fill both mold assemblies as usual and put them in the initial curing drawer with the fill port up. Press the CURE button once and the box just above the button will direct you to check for correct filter placement. Check the filters and continue when they are correctly placed.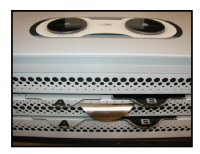 Press the CURE  button a second time and the box will direct you to start curing the left or right assembly. The alert tone will sound when the first assembly has finished the initialization step.  Remove it and place it in the post cure station and press the POST CURE button. Place the second mold cavity in the initialization drawer of the main chamber on the proper side and press CURE to start the initialization cycle for the second assembly.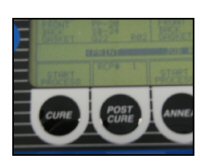 The tone will sound again when the second mold assembly is ready to be moved to the post cure station. Move the mold assembly from the main chamber to the empty post cure location in the post cure drawer. Press the POST CURE button again to stop the alert tone and continue the post cure cycle for the two cavities. The two assemblies will finish their curing cycles together. The tone will sound again when the post cure cycle is complete.
Demolding and annealing for split jobs are the same as any other job.