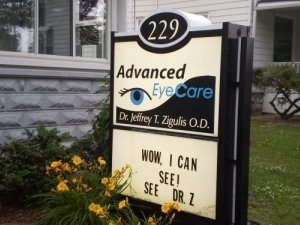 The team from Advanced EyeCare are avid users of the Q-2100 echnology. With two locations the doctor purchased the Q-2100 Digital Lens System and nanoCLEAR AR unit for his business in 2005.
The primary operator of the equipment proudly wears the lenses she made with the system. She has been running the system for a few years and in her words, "it's the bomb!" When asked about the nanoCLEAR AR, the team shared their success rate with the product. "We have used some of the biggest AR names on the market and this is just as good if not better than the competition."
As mentioned on the company website, they have a full in-house lab and full dispensary to provide control over quality of products and quick turn around time. The team at Advanced EyeCare is happy to have the technology on-site for improved optics, lens quality and delivery speed.