Baron Vision Center located in Decatur, Indiana, offers the largest selection of eyewear in the area and added the Q-2100 Lens System with nanoCLEAR AR to their practice in 2008. The decision to purchase the equipment was based on increased practice profitability while at the same time offering the best possible prices to their patients. As advertised on their website, "Because of our on-site lab we save you money by making your glasses here, in our office, cutting out the middle-man."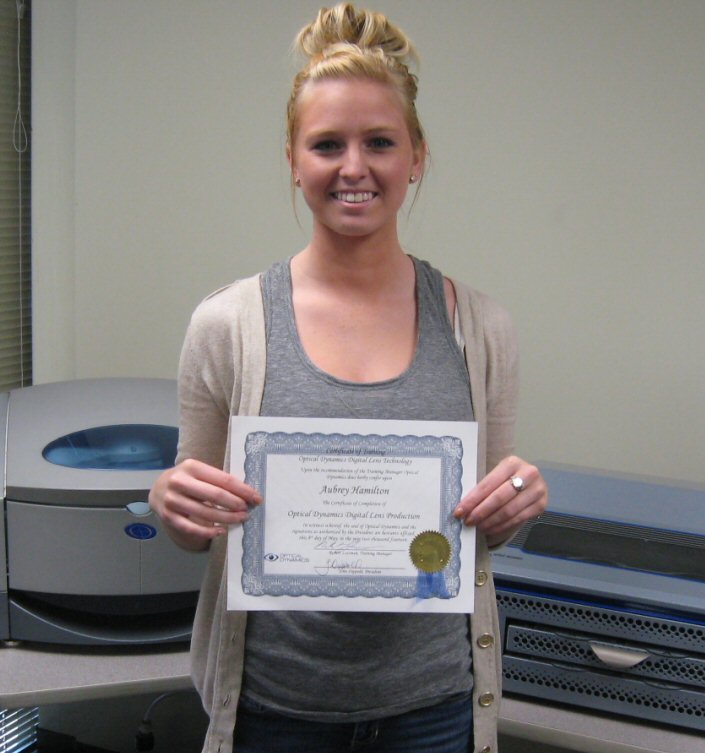 Baron Vision Center employee Aubry Hamilton visited our offices in Louisville, KY for training. Aubry spent two days with Training Manager, Bob Lossman, reviewing lens production and ongoing system maintenance. Aubry was pleased with the ease of operation and was excited to take her new found production knowledge back to the practice.  At the end  training Aubry was presented with a certificate of completion for her operating competence.
Whether you need glasses, contact lenses or the treatment of a medical eye disorder you can depend on Baron Vision Center to provide you with the eye care you need at a price you can afford. They are providers for most insurance plans (vision and medical) and offer 0% financing up to 2 years with credit approval.